"Greensleeves was all my joy, Greensleeves was my delight,Greensleeves was my heart of gold," Greensleeves, traditional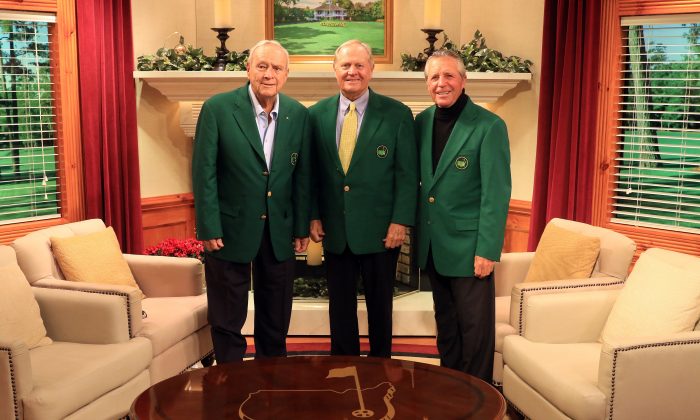 As we head towards Easter Sunday having polished off the last of the Manischewitz from Passover, the void left in our daily lives by Covid-19 continues to expand exponentially, like the virus itself. Working from home and self-quarantining, mired in Netflix, Amazon, and Hulu, the absence of professional sports from our TV and news landscapes feels particularly stark this weekend.
In normal times, sports fans would be feasting not just on Passover brisket and Easter lamb, but on the first major tournament of the professional golf season–the Masters, held each year in the same place, Augusta National in Georgia. It's one of the premier events in all of sport, and perhaps the sporting world's toughest ticket. Even getting a pass to attend a practice round is considered a real coup. Past champions include all of the greats–Palmer, Nicklaus, Player, Watson, Michelson, Mcilroy, and Tiger.
Along with the money and prestige that comes with winning, each Masters champion gets to don and wear the event's signature wardrobe item–the Green Jacket, like the ones Arnie, Jack, and Gary are sporting above. There's one caveat. The green jacket stays at the club, where its stored until the former champion returns and can wear it at the annual Champion's dinner that precedes the tournament's first round.
It's only fitting for such a tailor made symbol that it's become a registered trademark. In March of this year, (which now feels like an eternity ago), the U.S. Patent and Trademark Office issued Registration No. 6,000,045 shown below.
"How can a garment be a trademark ?", you may ask. Well, standing alone, it can't. Minnie Pearl, the legendary star of the Grand Ole Opry, was certainly known by her "trademark" straw hat with its band of fake flowers and dangling price tag. (Indeed, "hat" is the answer to the NY Times crossword puzzle clue "Minnie Pearl's trademark.") But although Ms. Pearl talked about branding and trademarks when she was the keynote speaker at the International Trademark Association's annual meeting when it was held in Nashville, she never secured a registration for signature wardrobe accessory. (It does however, reside today at the Smithsonian on the National Mall, not too far from the Trademark Office in Alexandria. Virginia.)
So how was Augusta National able to trademark the green jacket? Two reasons. First, it used the Green Jacket symbol in connection with actual services, namely, ""promotion of goods and services through sponsorship of sports events" and "organizing and conducting golf tournaments." Second, Augusta National proved that the Green Jacket had acquired trademark significance–what we in the trademark game call secondary meaning–though over 70 years of use. Indeed, Augusta National convinced the Trademark Office that this was no ordinary item of haberdashery, but has long served as the famous brand symbol of Augusta National and the Masters tournament.
There will be no Green Jacket awarded this weekend. With the county not feeling up to par, the Masters has been moved to November, with fingers crossed that the sporting world will eventually reopen for business. This may be frustrating news for players and fans, but there's one possible silver lining. Last year's champion and five-time Masters winner Tiger Woods will have six more months for his aching back to heal and be ready to defend his title. If he does, it will not only be another dazzling career achievement, it will save Augusta National several hundred bucks and Mr. Wood's Green Jacket will fit like a glove. Past winners simply slip on their own jacket. Membership has its privileges.
Quote of the day: "The most rewarding things you do in life are often the ones that look like they cannot be done." Arnold Palmer